Creating an extravagant mythical world for director George Miller's Three Thousand Years of Longing saw Sophie Nash and Nicholas Dare score a handy win at the 2023 Australian Production Design Guild awards.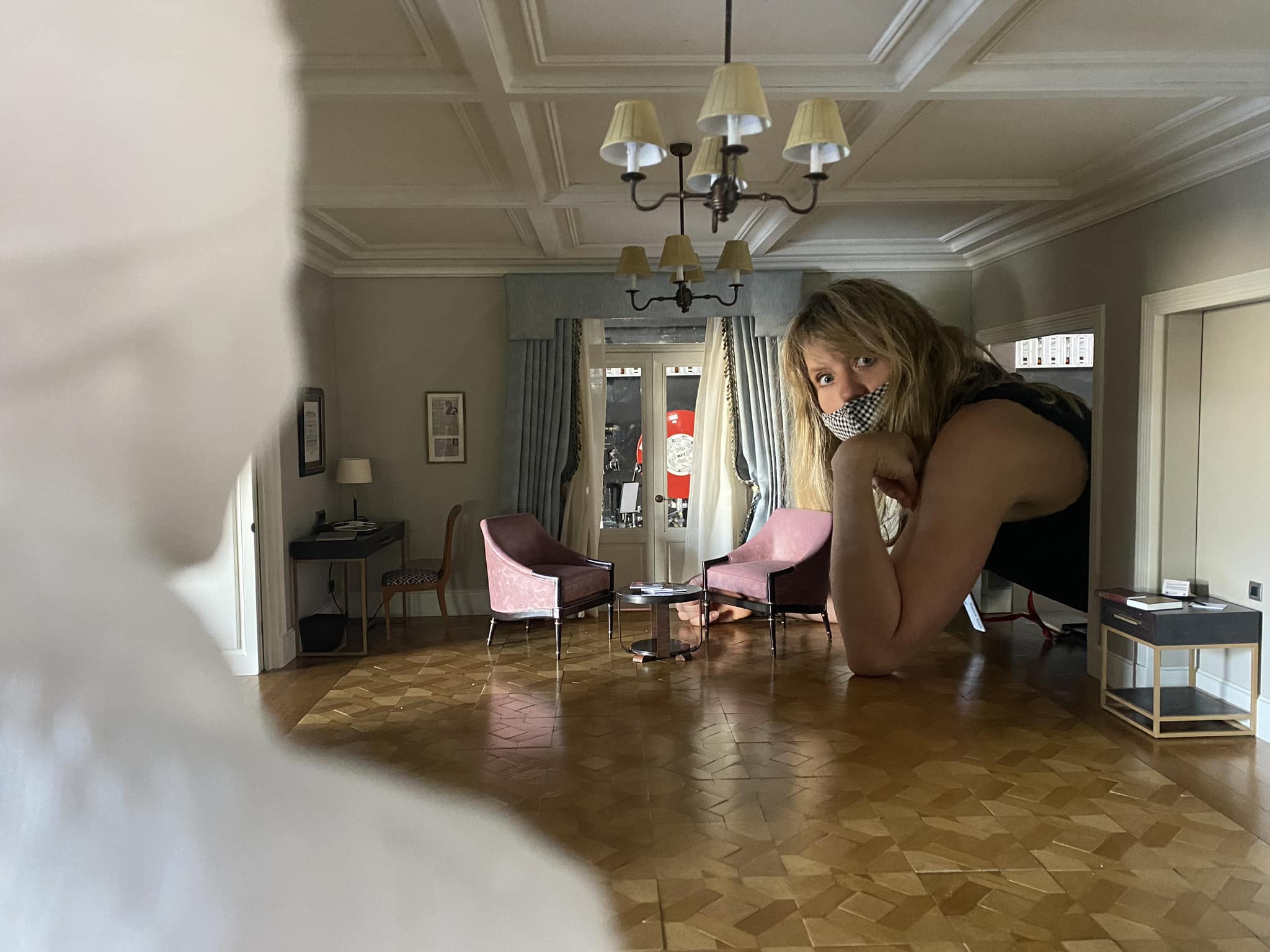 The pair took home the Docklands Studios Melbourne Art Direction for a Feature Film or Television Production Award, despite being up against the juggernaut Elvis at the August 26 red-carpet ceremony at Melbourne's Victorian College of the Arts.
The awards have become a highlight of the screen industry calendar since they began in 2011 with Docklands Studios Melbourne the founding—and now major—sponsor.
Three Thousand Years of Longing is the story of a lonely scholar (Tilda Swinton) on a trip to Istanbul who encounters a djinn/genie (Idris Elba) who offers her three wishes in exchange for his freedom.
Sophie (Supervising Art Director) and Nicholas (Art Director) explain why the project was a joy to work on, despite delays caused by COVID (as told to Bel Tromp).
Sophie: It was one of the best we've ever worked on. It had all the right ingredients, an element of fantasy, an element of history and then, to top it off, the crew were stellar—a cinematographer like John Seale and make-up artist Lesley Vanderwalt, both Oscar winners—they were all top of their game.
Nicholas: It was almost a golden standard of collaboration. We were led by Roger Ford (Production Designer) and we surrounded ourselves with an amazing art department. The film took place over four different time periods and was set in three different countries. But everyone was firing on all cylinders.
Sophie: Very early on I got to do a location scout to both the UK and Turkey to look at sequences that were intended to be filmed over there. And this was a month out from lockdown. The scout was fast paced, particularly Istanbul, so just trying to take reference photos on the fly was a bit of a scramble. I was very lucky that I took as many as I did because we didn't get to go back due to COVID. A lot of those reference photos we then used in building the sets here in Australia; in particular, the stone, marble, and ornate tiles.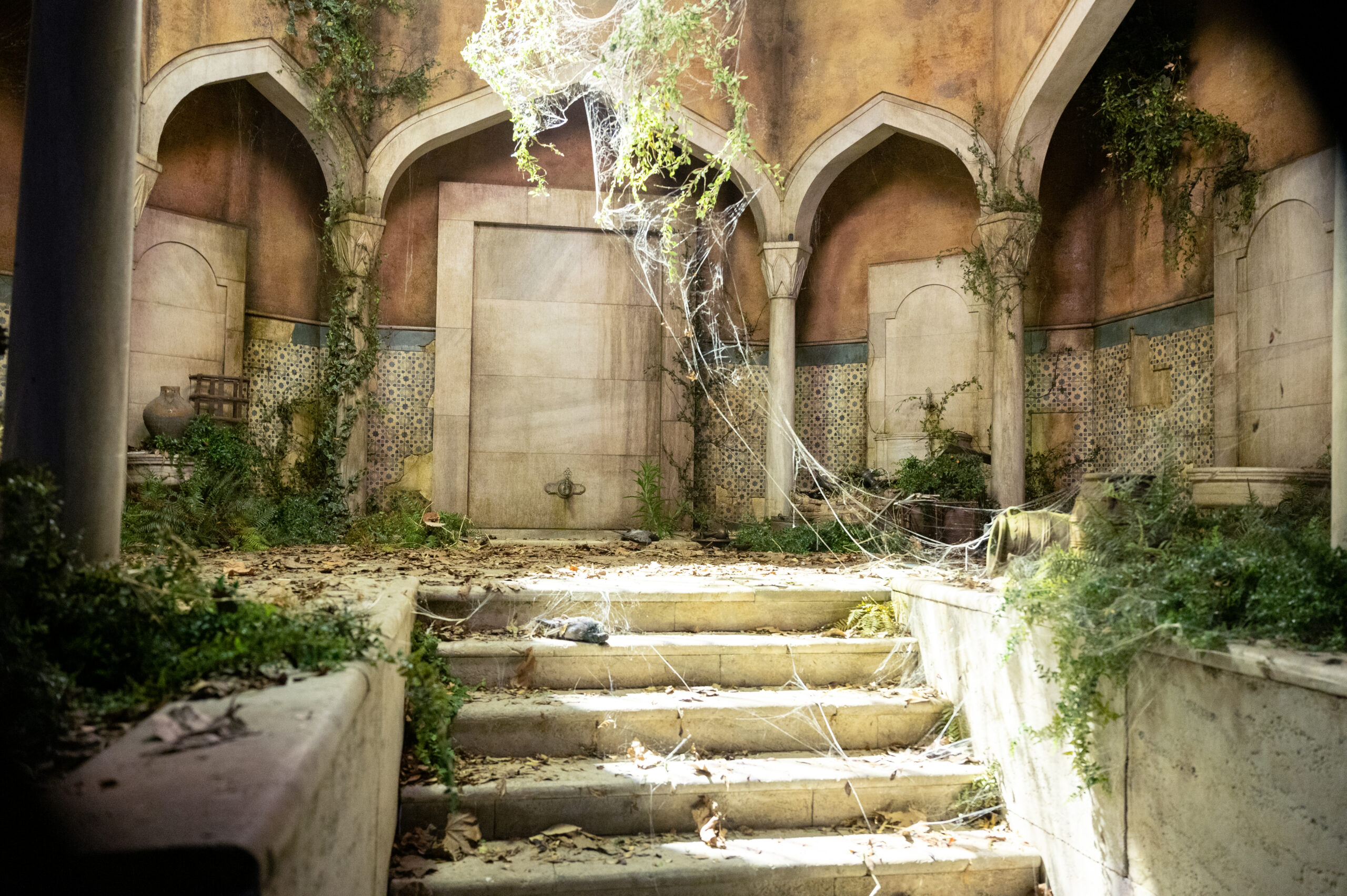 Nicholas: There's a fantastical element of the Djinn and his journey through the three thousand year period. We discussed the look of the memories and how much truth we were adhering to in terms of the architectural style, and how much of it was a lurid memory.
Sophie: There's an element of creative licence to heighten the style of the memory from what is 'period correct'. Research for such early periods is done by reading or looking at illustrations. I recall seeing an outlandish illustration of a ceremonial horse with pink hair and bejewelled horse tack, the rider dressed in pink as well. George jumped on board and said, 'great, let's do it!'. Scenes that took place in the Imperial Palace, George wanted to be overly flamboyant. So, whilst the colours are based on historical references, they were dialled up a bit. Other memories were told with less fanfare, less stylization.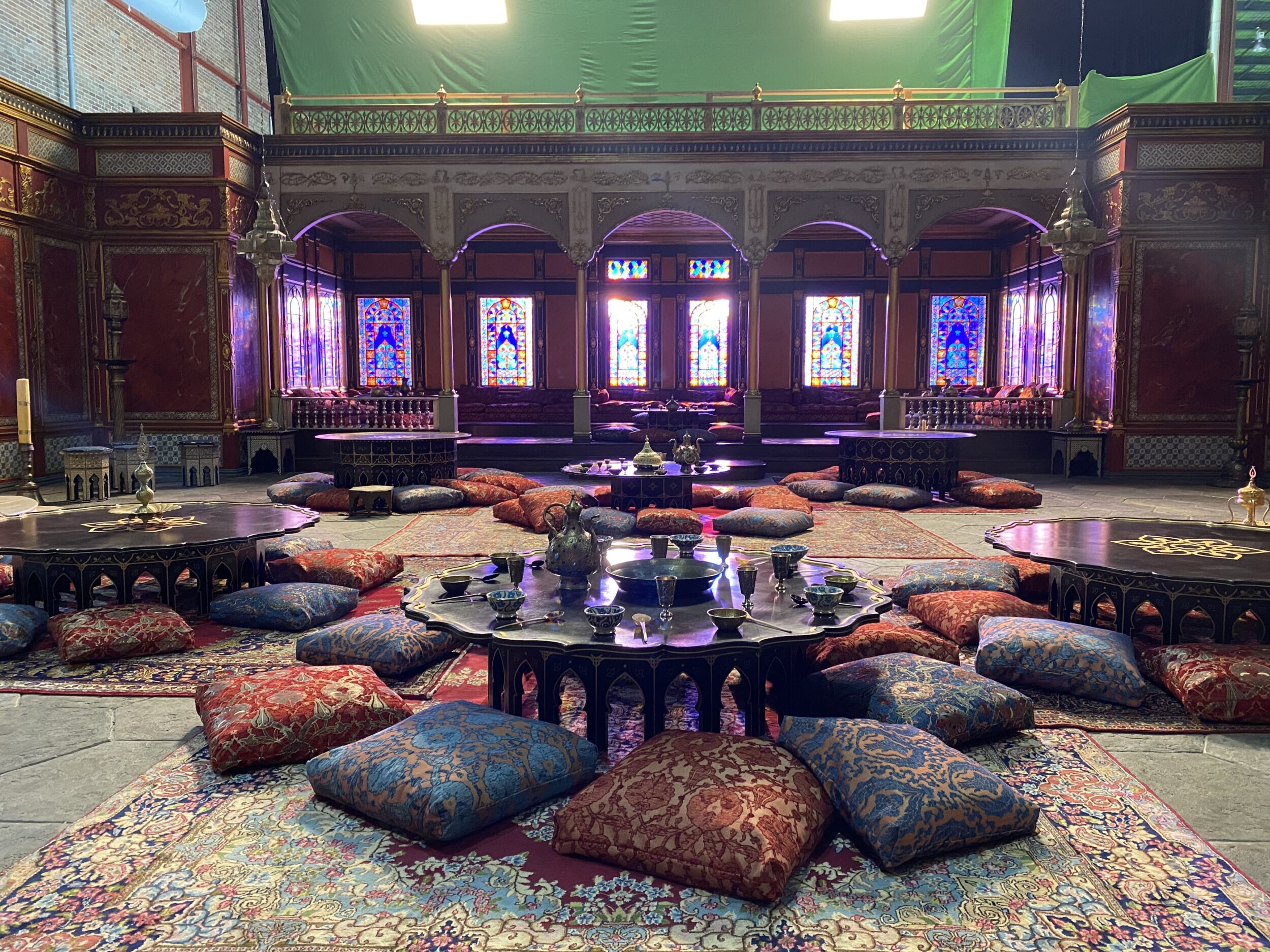 Nicholas: There was a really broad range of design styles for us to tackle, from the almost mythological Sheba's period, all the way through Ottoman Turkey to modern London. Shooting the whole film in Australia meant that we had to create many sets and, in a few cases, re-dress or slightly extend those sets to become new locations. Towards the end of the shoot, we lost a major location and found ourselves creating a vast foreign airport in a couple of weeks.
Sophie: George was really, really prepared. Before I'd started, the majority of the film had been storyboarded because he knew that this film was ambitious on the kind of budget that we had. He came in prepared because he didn't want to waste. Roger was designing to the board; there was a lot that was already set in stone and we didn't stray too far from the original boards.
Nicholas: With some directors that process is the reverse. You don't know what they want and it becomes a process of elimination. Whereas with George you had someone who is so experienced and so worldly and interested in so many things; he just knew what he wanted.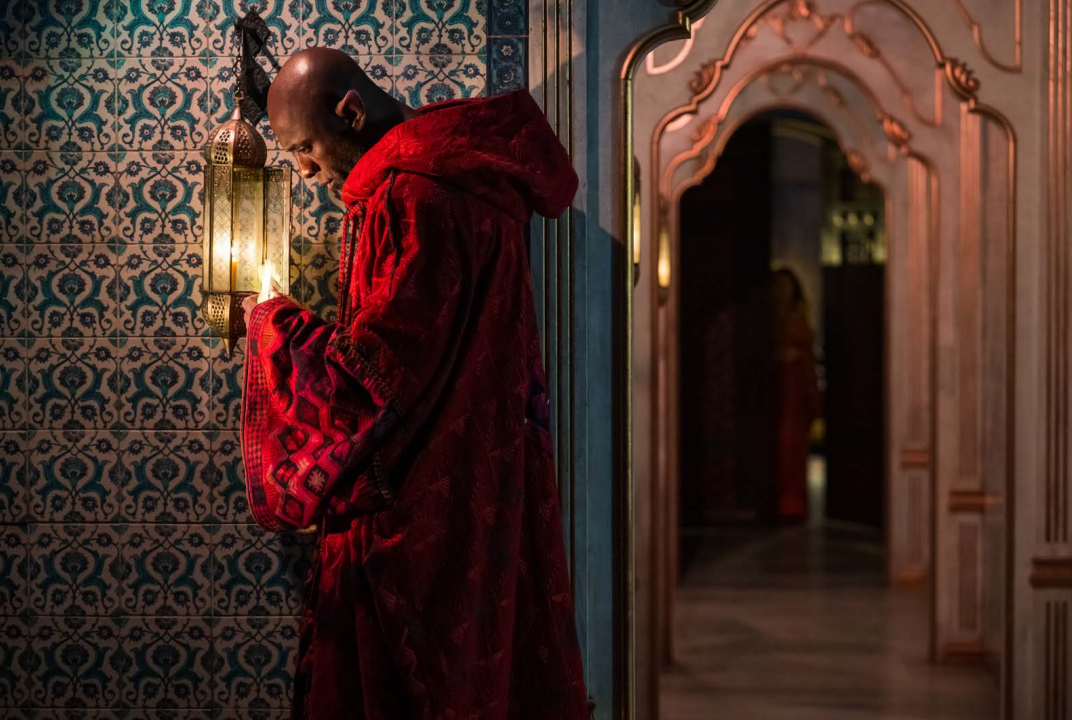 Sophie: (On how the pair formed a working partnership) I was doing a job in Melbourne years ago and I rang Nick about that job and he couldn't do it. But I remember thinking he had a great phone voice—he sounded easy to work with. For this project, Roger had worked with Nick before so they had an established relationship and I thought don't fight it!
Nicholas: Sophie, being the Supervising Art Director has a much greater overview of the structure of the department and the budget. It's a scaled up version of a regular art directing job; there's so much traffic to direct. We carried the same arrangement on to Furiosa (George Miller's Mad Max prequel, due for release in 2024).
Sophie: (On the importance of the APDG awards) We've had several Oscar winners in production design in the last few years like Colin Gibson and Catherine Martin and I think recognition builds a bigger community, and gives us more agency, within the production design area.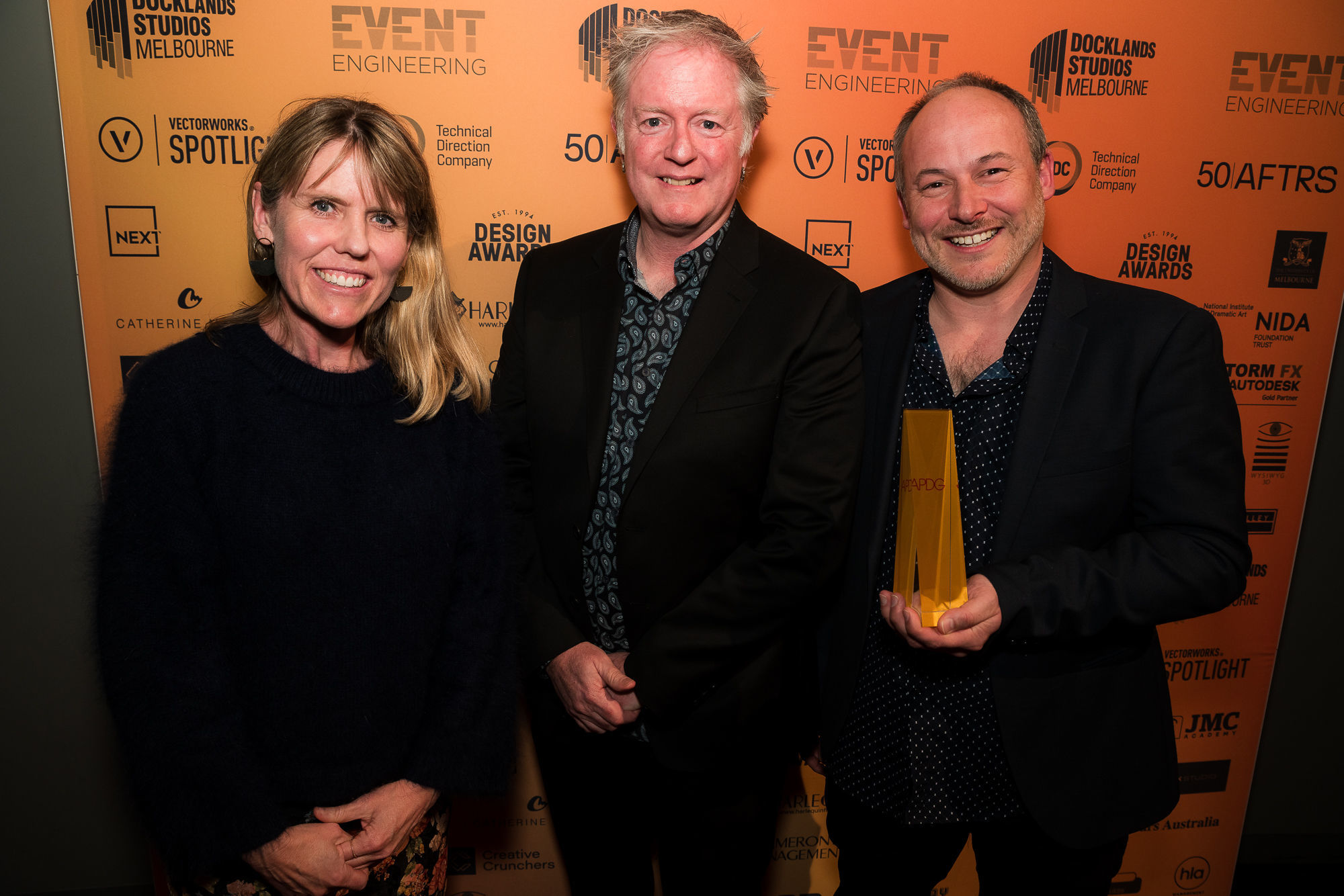 Nicholas: The APDG is important in binding artists together, so that young emerging designers can have a connection with people who are far above them in the industry. I remember when the APDG was embryonic. To see how far it's come since then, and now receiving an award, it is really quite something. Elvis was a juggernaut and we were up against some incredibly talented people, who are all fantastic and do amazing work. It was really unexpected and exhilarating. It was a great validation for us.
Full list of 2023 APDG award winners: https://apdg.org.au/awards/past-awards including Lisa Thompson for set decoration on Three Thousand Years of Longing.