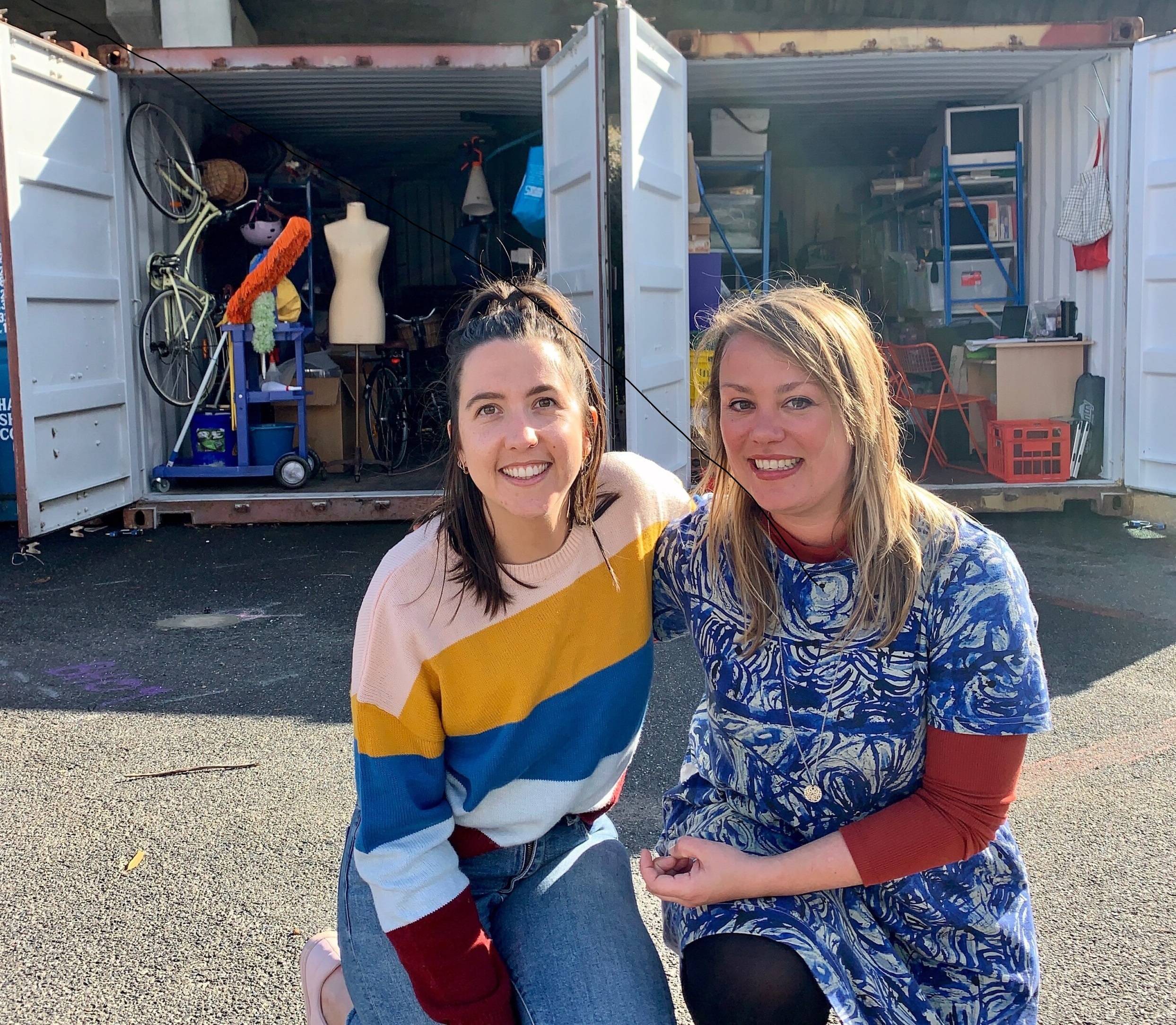 From fake babies and vintage fishing rods to a bird's nest or sex toy—you name it and screen industry prop masters Ashlan Dowling and Olivia Pulbrook can source it.
As soon as they get a film or TV script they hit the ground running, knowing through experience what object an actor or extra might need to use in any given scene.
Having met at Docklands Studios Melbourne on The Dressmaker around eight years ago, Ashlan (Ash) and Olivia (Liv) now operate their own prop rental house, The Prop Collective.
They share their story with Bel Tromp.
Ash: I started in the industry in 2013 working in production and after a couple of years decided it wasn't for me. I made the jump to the art department as runner on The Dressmaker which was really fun, then I did props on Ali's Wedding and I guess you could say the rest is history.
Liv: My family is in the film industry so I kind of fell into it. I got back from working in Milan in 2010, and my dad was working on The Cup and he got me in to do art department running, which led to film graphics and then stand-by assist on that film which I did for a few years after, and then moved into my off-set role as props master on House Husbands.
How would you describe the job?
Liv: Anything an actor holds is a prop master's responsibility.
Ash: We comb through the script and pull out all the things that would be considered a prop. We set about sourcing those and communicating with different departments—we might talk to camera or lighting because there's a torch involved, or maybe stunts because there's a weapon involved.
We care about the character. Maybe it's scripted that they're sitting at a bar with a drink but we think what else would they have, what would the people around them have and what are the extras doing—so for example everyone might have food and drinks.
Liv: So they're not just sitting there twiddling their thumbs! You have a meeting with the designer and the director and talk through everything that you're providing. (You look for) any gaps, or a specific thing that the director thinks would be amazing, or the designer would like to see in that scene. Then on the day we make sure that whatever they are expecting is there. Although there can often be a surprise.
Ash: The schedule or the script changes the night before! More often than not the prop you bought two weeks ago is no longer relevant because it's constantly changing.
Liv: You've definitely got to be one hundred percent across the script, more than anyone else in the art department really.
Ash: The actors might make a last-minute request, luckily the standby props usually have a truck full of things that can help.
Liv: Recently on a show the action in a scene changed. The two actors were drinking wine and it was a period show so the wine had to be corked, not screw-capped. The actor decided they wanted to uncork the bottle as part of their action, so we needed 40 bottles on the day.
Ash: And they don't rehearse every single scene so you can only predict only so much.
Liv: That's where on set experience helps because you can read a scene and have an understanding of how they might shoot it, or have a vague idea of how many angles and takes they might do for any given scene.
So if someone is smashing a glass, you think about how many times you'd shoot that from different angles and how many glasses would you need. Also, what can the budget afford?
Q: Where do you source items?
Liv: Lots of second hand markets, props stores and bazaars around town have amazing collections of odds and ends from different time periods.
Ash: I've joined Facebook groups of fishing clubs before because I needed 1970s fishing equipment. You get to know people that aren't in the film industry but might have a collection of things at home that they're happy to hire.
Liv: Some of those groups educate you. We ask specific questions (about use of items) and they might say 'oh you wouldn't do that, you'd probably do this'.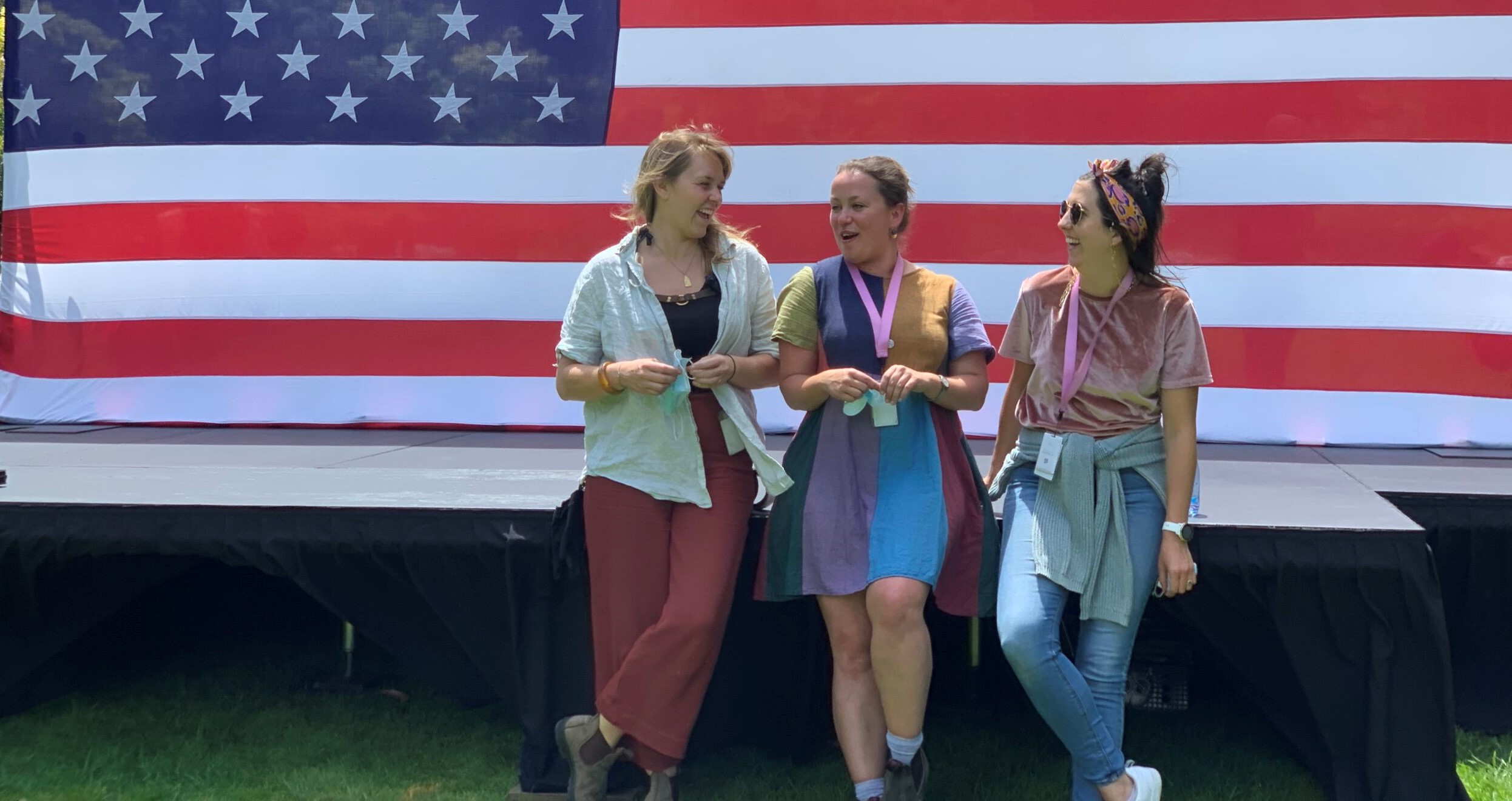 Q: What are some of the stranger props you've have to come up with?
Ash: Anything can be made. Even if it's far-fetched, there's a talented group of prop makers that can make our dreams come true!
Liv: We were just saying to each other before it's really common that we need sex toys.
Ash: Or more than you'd hope!
There's many things we've become well versed in. I recently did Fires, the ABC production and I know way more about firefighting than I ever thought I'd know. The production made relationships with volunteer firefighters who could assist us. It was imperative that firefighting was represented correctly because there's a huge group of people out there who know how the equipment works and to misinterpret that would take a lot of the audience away from the show.
Liv: And it was a true story so you have to be mindful with that.
Liv: On Mortal Kombat recently we had to design all the weapons for all the characters based on the video game. It was really interesting researching the history of Samurai swords and hook swords and then designing them based around the character.
Ash: One of the tricker things in our job is branded items. Let's say a CocaCola drink for example that's really important to the character. If it's not used in the best light, it can be hard to clear and that responsibility does fall on us. On a big job there is a clearance coordinator, but the minute I read a brand I'm like 'aargh'.
Liv: Quite often the brand might say 'we don't want to be a part of that production, so remove our name from whatever it is'. Then you end up with a non-branded version.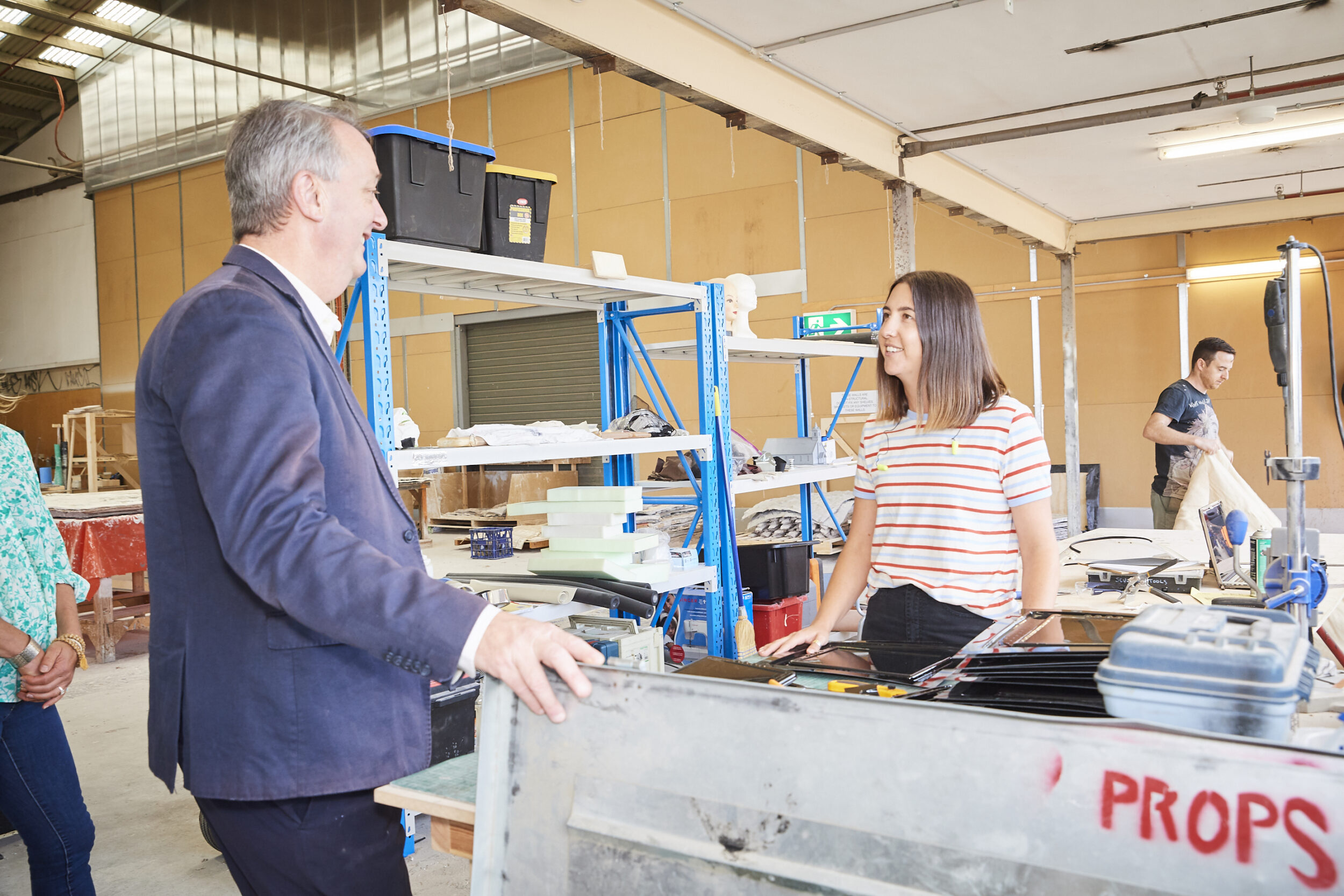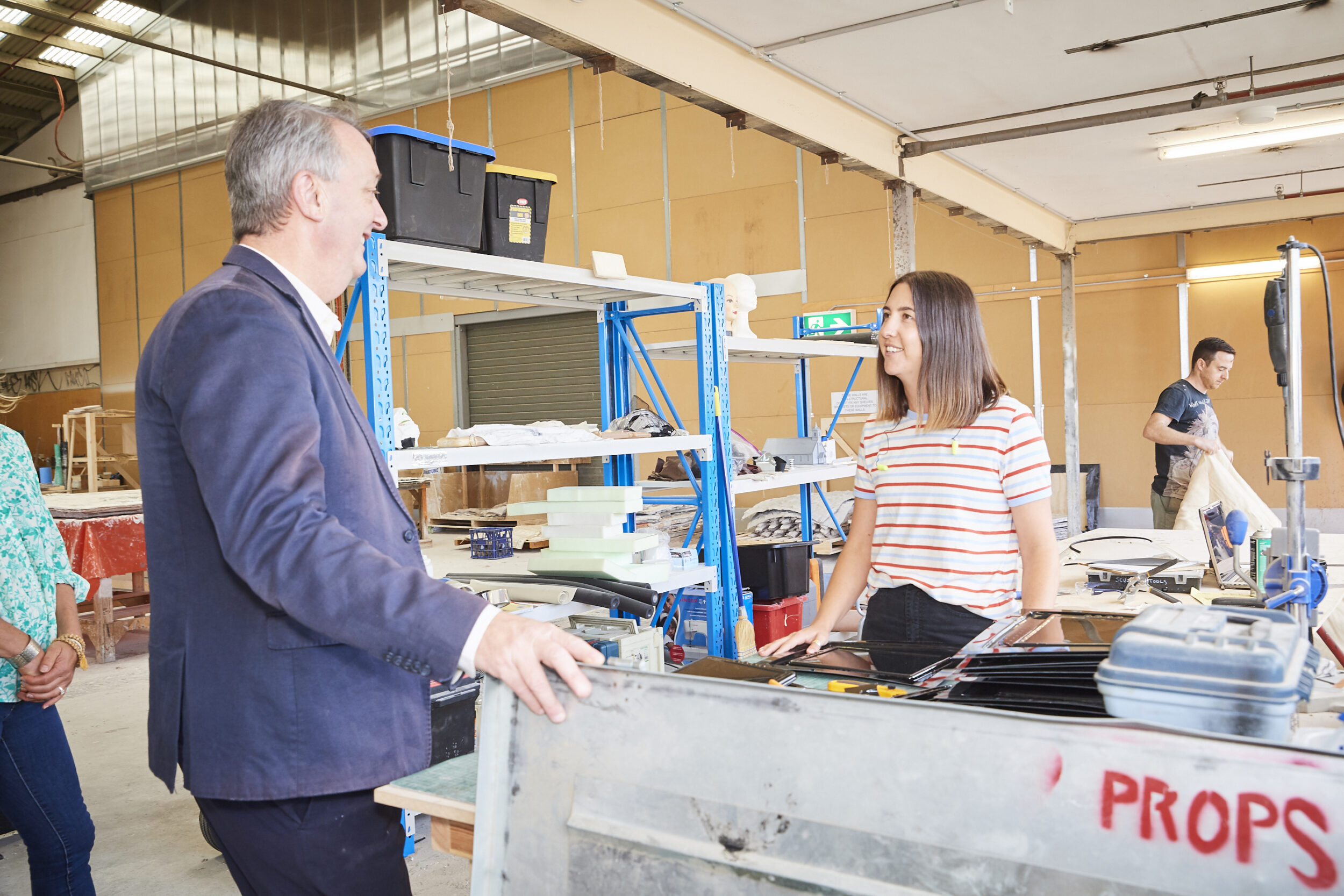 Q: You're both regulars at Docklands Studios?
Ash: Yes, it's nice and central and being all together on one site does make communication a lot easier.
Liv: It's great also from an art-department point-of-view. We've got the workshop there, we've got construction there, we've got props manufacture there and all the offices with the directing team, just having everyone in the same spot is fantastic. You can walk over to stunts and have a chat, walk over to costume and have a chat and actually show people physical things instead of having to do it over the phone or send an email. It really short cuts the whole process.
Q: You both worked on Shantaram (now streaming on AppleTV+) which shot in Melbourne. What were the challenges on a project that was set in another country?
Liv: We made contact with the Indian community in Melbourne and did a lot of research for that period.
Ash: Because the art department on the first version was going to India, we had our Indian art department do some shopping for us so we had authentic Indian props. There were so many extras in street scenes that all needed props.
Liv: Like 600 extras in a street scene with market stalls and everyone's doing something. So, a market place where they are cooking food and you've got to have all these little stalls and all the actions that would go with it.
Ash: A lot of the time as prop masters on local productions we're just a one man band, you know. It is nice on the bigger productions to have a bigger team share the sourcing. But we wouldn't have been working on those projects if we hadn't worked on the local jobs first, cutting our teeth on the smaller jobs.
Liv: It's good to do both.
Q: How does The Prop Collective operate?
Ash: We're at the Melbourne Screen Hub in Yarraville and we have thousands of items, not all of which are catalogued online but we're getting there! We concentrate on props that we know we always need, whether it's cigarettes that have no branding or fake babies—which always come up (in scenes) and can be really hard to get your hands on.
Liv: We specialize in things that props masters struggle to find at short notice.
Ash: Ours is an online store with a calendar booking system so you can see live availability. We know how short the turn-around can be on these shows so quickly seeing something and booking it online was super important to us when we started the business.
Liv: The way we built the website and the way we put it together was basically aiming it to ourselves!
Q: How is the screen industry going?
Ash: It's definitely been busy in Melbourne, I've heard it's been hard to crew smaller jobs with a lot of the bigger jobs coming in lately
Liv: I guess seeing how busy The Prop Collective has been too is another reflection of this. There are a number of prop stores or hire houses in Melbourne so I imagine they are all feeling it too.