Docklands Studios will play a key role as Victoria positions itself at the forefront of the global production boom.
Industry leaders gathered at our facility recently for the unveiling of a $191 million strategy to supercharge the screen sector and create jobs for more Victorians.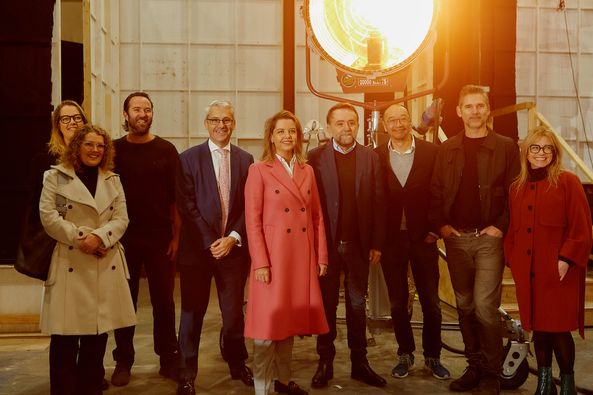 L to R: Kate Dennis (director), Daina Reid (director), Sullivan Stapleton (actor), Danny Pearson (Minister for Creative Industries), Caroline Pitcher (Film Victoria CEO), Robert Connolly (producer/director), Tony Ayres (writer/producer), Eric Bana (producer/actor), Andrea Denholm, producer/FV board member)
Directors and actors flanked Minister for Creative Industries Danny Pearson and Film Victoria CEO Caroline Pitcher at the announcement of the four-year plan.
The VICSCREEN strategy includes a new Victorian Production Fund, skills training, and incentives to lure international screen businesses and major productions to Victoria.
The strategy describes Stage 6 at Docklands Studios as a watershed moment in the development of Victoria's screen industry, along with Australia's management of the pandemic and the $40 million renewal of Melbourne's ACMI (Australian Centre for the Moving Image).
Construction of the $46 million stage main structure is well underway and on track for completion later this year.
Watch construction video: