It was once a bastion of male domination, but things are changing in film and TV production.
As women take up director and producer roles, they're also taking charge behind the camera.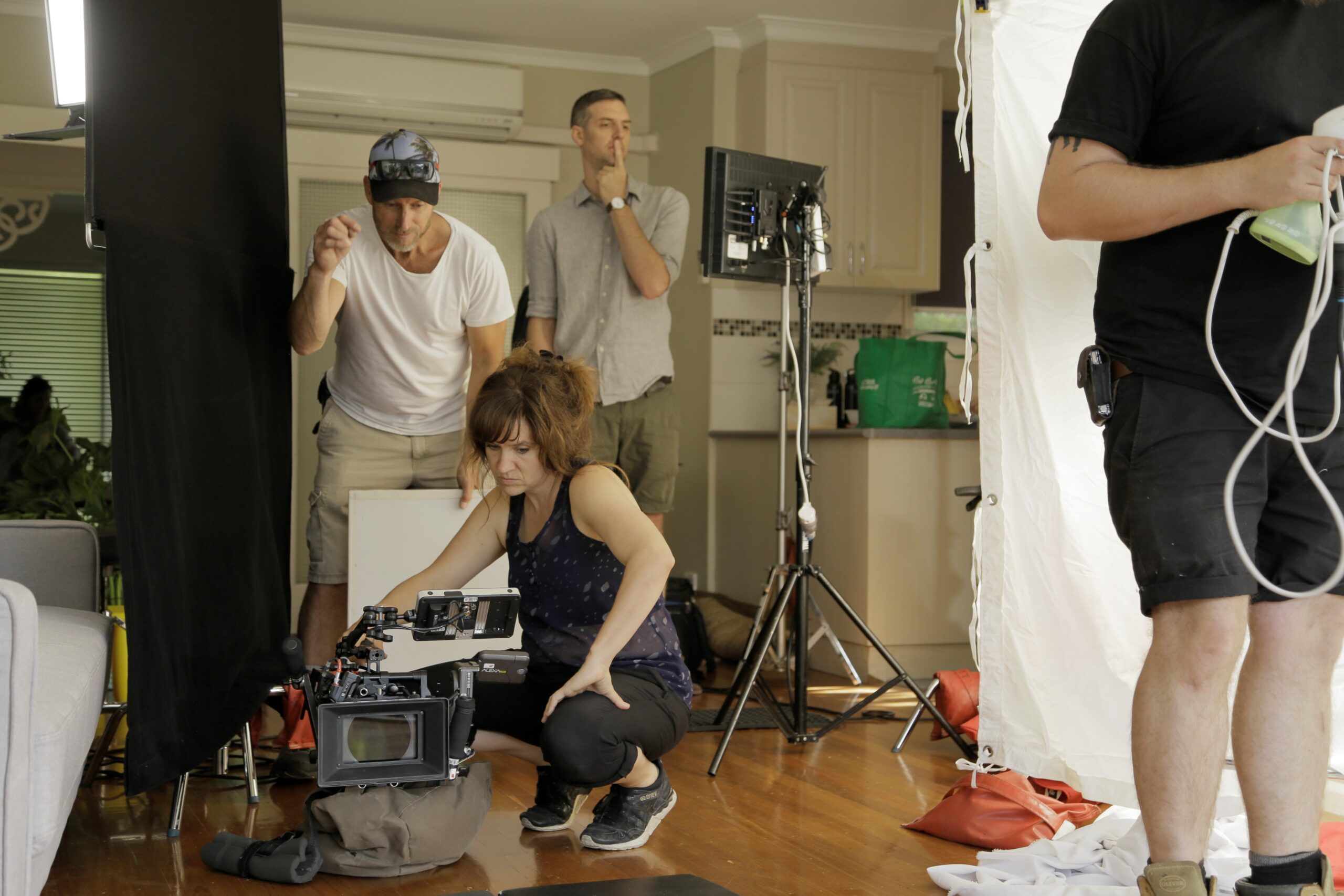 Above: Sky Davies on the set of a Kleenex commercial, 2020 (supplied)
Sky Davies and Kitty Allwood have worked their way into the highly specialised field of cinematography and are now role models for other young women.
Both were at Docklands Studios recently for the latest Jack Irish series screening on ABC TV—Sky as A Camera Op/2nd unit DP and Kitty as a camera assistant. Kitty also filmed Clickbait at Docklands which is due for release on Netflix later this year.
Sky Davies and Kitty Allwood spoke to Bel Tromp about how they got their start.
SD: I came up through the Film Vic camera attachment program. It was a female cinematographer, Katie Milwright, who said to me, "would you like to come and be 1st AC [assistant camera] on a feature I'm shooting?" I'd done a little bit of focus pulling but that was the step up I needed. And then I had a very long career as her 1st AC. Whenever there were jobs she couldn't do, she'd say, "why don't you give Sky a try?" So, I got my break in cinematography through other cinematographers.
KA: My first job was as a camera attachment on The Pacific. I got that job because I was working at a camera rental house and The Pacific camera crew were doing pre production there and suggested I should apply, and that started my career as a camera assistant. My uni course–RMIT Film and TV–was very broad. It doesn't teach you enough about the specific roles. You can make a fantastic living working in the film industry−you don't have to be a director.
What do you enjoy about the job?
SD: When I was a camera assistant, I really enjoyed the technical aspect and the job satisfaction when you nail a shot. However, there's not the same level of creativity and that's something I always wanted to experiment with. I love cinematography because I love how light plays, and everything within a frame illustrating what is meant to be said in the story at that particular moment. There is so much power and beauty in capturing those moments. Part of my soul comes alive.
KA: I love camera. You're the department that never gets a break but you're in the position of seeing it unfold, it's fabulous. Every other department has done its bit and you get to see it come to fruition. I never realized it until I went up the rungs and became a focus puller and you get to see the actors and their performances in their rawest form. It's a real privilege.
My job now as a 1st assistant camera is not just being focus puller. The cinematographer hires me, he or she tells you what they want in terms of camera package and you build that into a kit, so we are responsible for all the gear, building the cameras. You have to change the lenses every two minutes of every day but get paid to do it and I absolutely love it. It's far from a chore. I never had the urge to be a cinematographer, I very much like being a camera assistant and working as a team.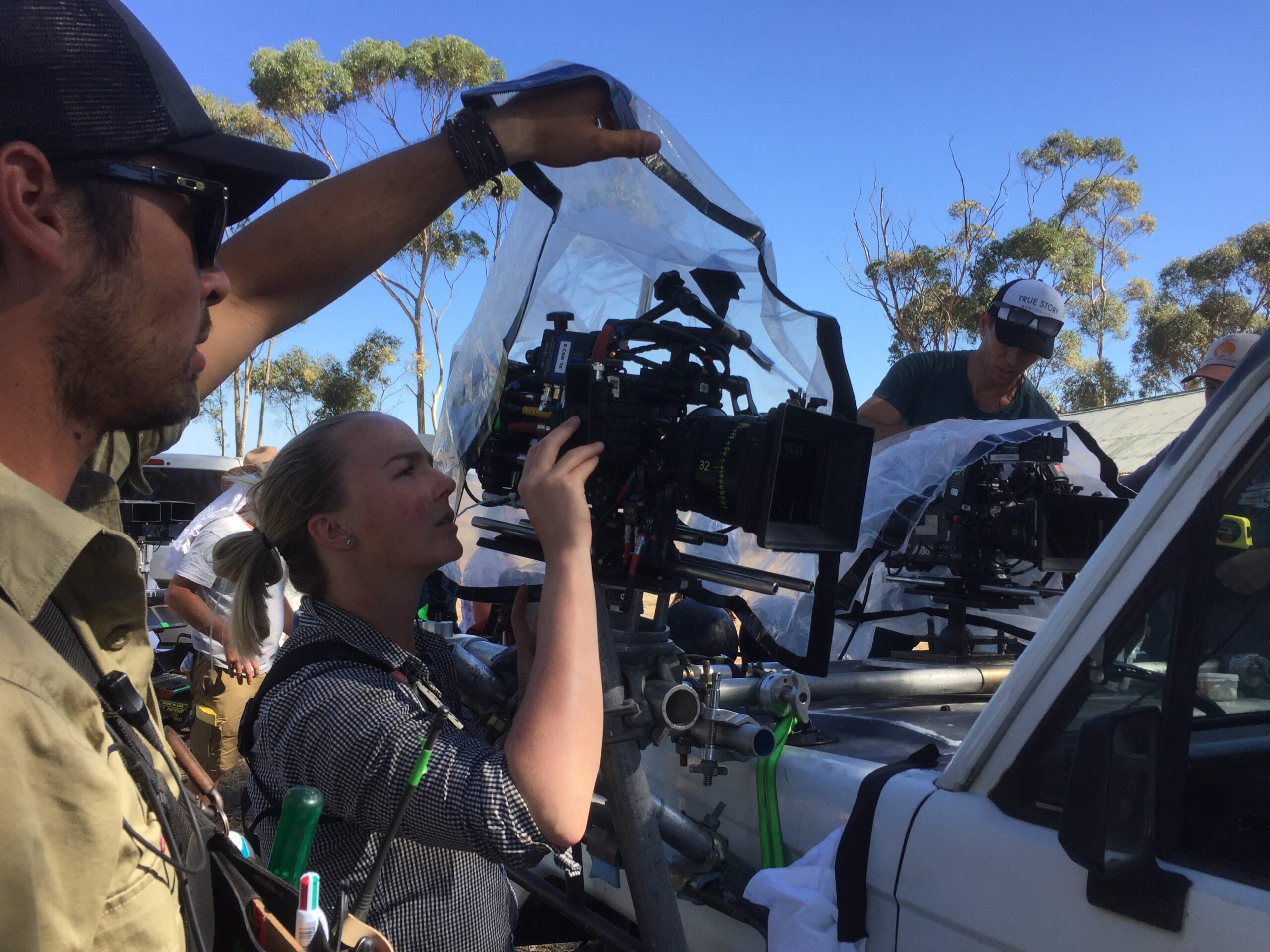 Above: Kitty Allwood on the set of True Stories, 2017 (supplied)
Are camera departments a "boys' club"?
SD: Women are radically under-represented as cinematographers. To be honest, I'm really not sure why there aren't more female cinematographers out there because there are some incredibly talented people…women who are cinematographers who are just not getting any work. There's a lot of attitudes out there that are fairly outdated. When I was coming up as a camera assistant there weren't very many females, and now there's so many more, we're so much better represented I think. As we get more female directors we'll get more female cinematographers.
KA: I can name three female focus pullers in the whole of Victoria! The rest are all males. I wouldn't say I've ever noticed [it being a boys' club]. I didn't realize I was the only female standing there! In general, I've worked with fabulous men who've taught me lots. In Victoria in particular they're great crew, but there aren't many women that's for sure. I struggled with it more when I became a 1st AC I think—I'm a five-foot-four blonde woman you know, I'm not a six—foot person who can command a room. I did always question myself but I definitely don't any more. I think it comes with experience and understanding you have a place in the room.
What's driving the shift to greater gender balance?
SD: It's not so much about the producers, it's about the directors. I shoot predominantly for females and gay men, they're my main client base. So, I know if there were more female directors out there there'd be more female DOPs. There has been very limited visibility of female cinematographers. Once they see we can do Steadicam, that we can hold on to a Ronin 2, that we can do handheld for three months without any problem because we're strong then they're fine with that.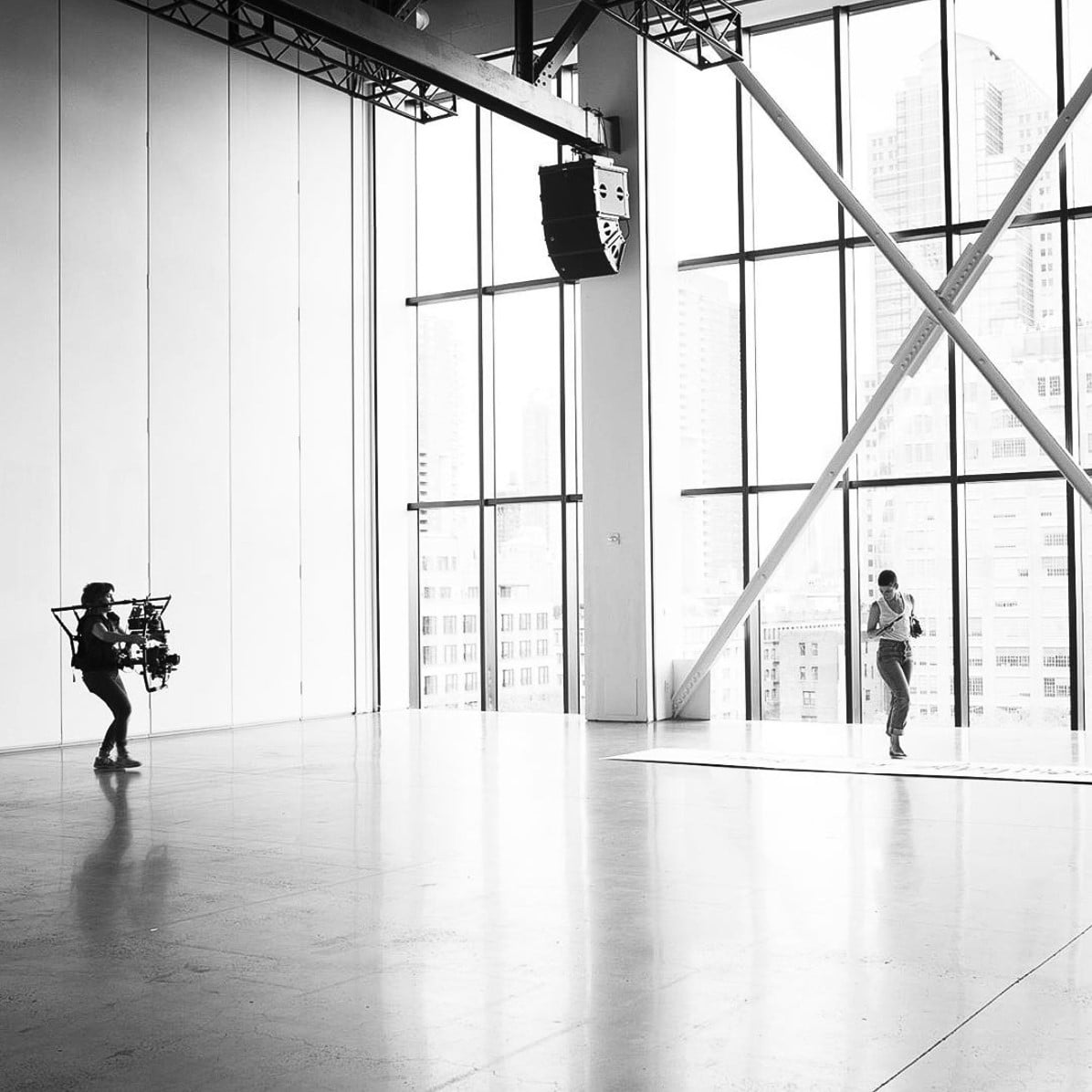 Above: Sky Davies with a Ronin 2 on the set of the documentary The Nightside, 2019 (supplied)
KA: I've been offered so many jobs where they desperately want gender equality and not full male camera departments. Especially because if you're doing intimate scenes or emotional scenes with younger cast members and every second lead is a female, it changes the dynamic and how comfortable the actors feel, for the better.
Is it important for women in screen to have mentors?
SD: Mentors are incredibly important. My career has got its biggest breaks from female cinematographers who have mentored me, and I think behind every great woman stands another great woman. I do [try to be a mentor to others] through a number of ways. Like during COVID, we had a lot of screen chats with female DPs who were younger, around how they can improve their website and create a sense of camaraderie. They need to know that you're at the end of the phone if they need to ask you anything—around rates, how to deal with difficult crew members, it can be anything. And any work I can't do I will make sure I recommend other female and male cinematographers that I feel would be appropriate for that role.
KA: That's how I've progressed—it's the reason I've got to where I'm at. Dan Maxwell, Marden Dean, Matthew Temple, Bonnie Elliott, are all cinematographers who've let my career grow because I was female and would sometimes get overlooked because I was female. For example, Bonnie Elliott tries to make sure there's an even split in the camera department of male and female and I try my hardest as well because of her example.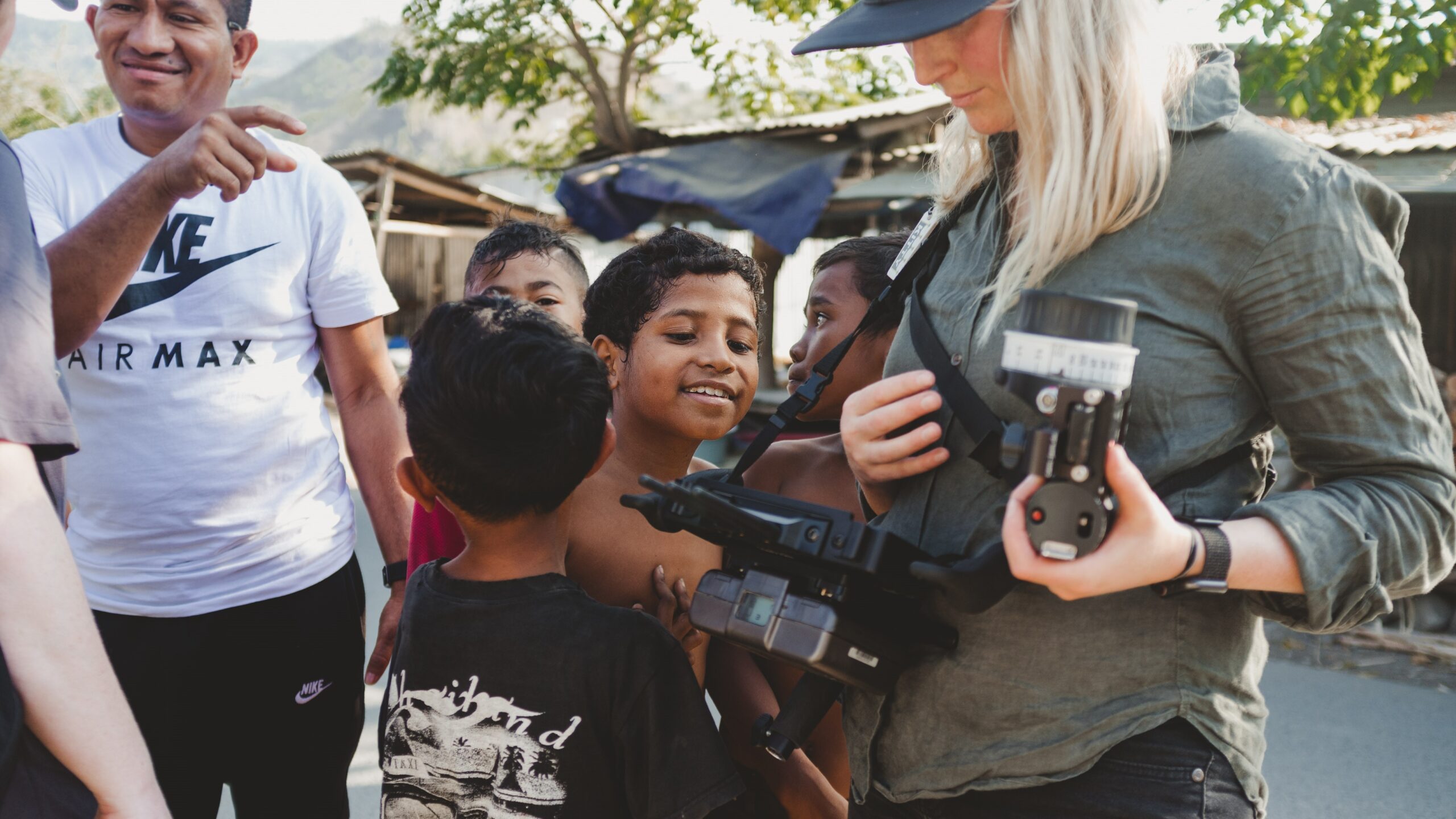 Above: Kitty Allwood on the set of ABC TV's Stateless in East Timor, 2019 (supplied)
Do women create a different vibe on set?
SD: So many times the first comment a leading lady says to me when they see me behind the camera is, "Oh I'm so glad it's a female DP". These comments say to me that we definitely create a different vibe.
KA: When there's nudity and there's a closed set, no one wants twelve [male] crew members in a room; and especially if it's a very female driven story line if there's females in the room we can understand what they're going through and then treat it as it should be treated. It didn't happen for a long time and I'm happy it's happening now.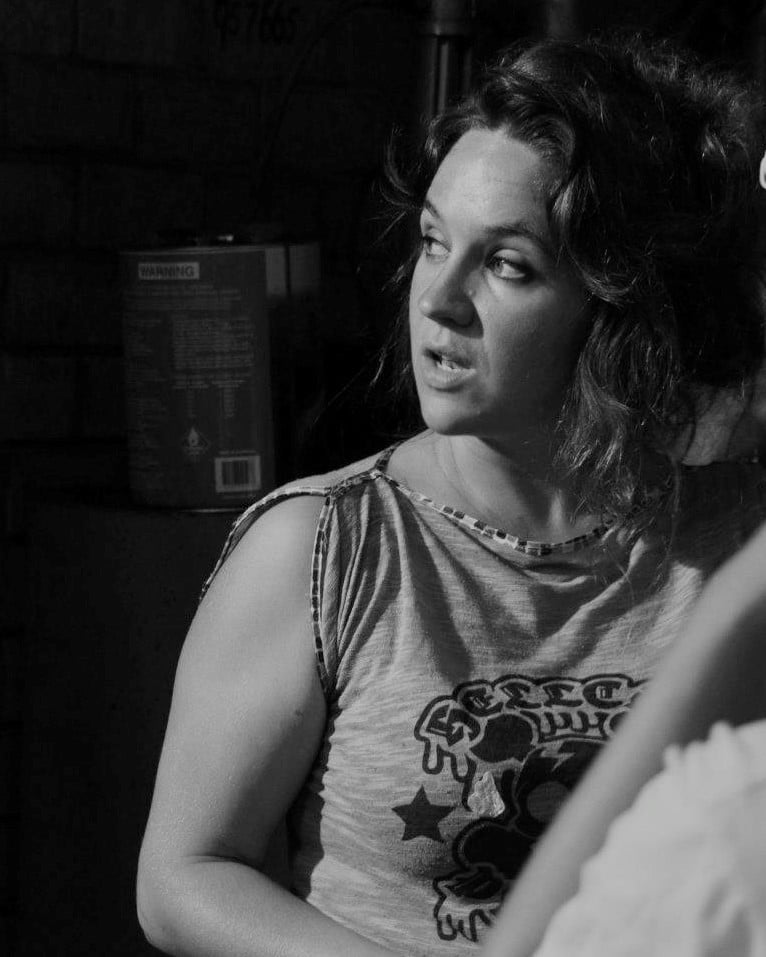 Sky Davies' (above) credits include:
The Beginners Guide To Grief (TV Series) 2021 – DP
The Fires (TV Series) 2021 – A Cam Op & 2nd Unit DP
Undercover (documentary) 2020 – DP
Tarneit (short film) 2020 – DP
Jack Irish (ABC Series 3) 2021 – B Cam Op & 2nd Unit DP
Breathe (short film) 2021 – DP
Retrograde (TV Series) 2020 – DP
SHIT (Feature) 2021 – DP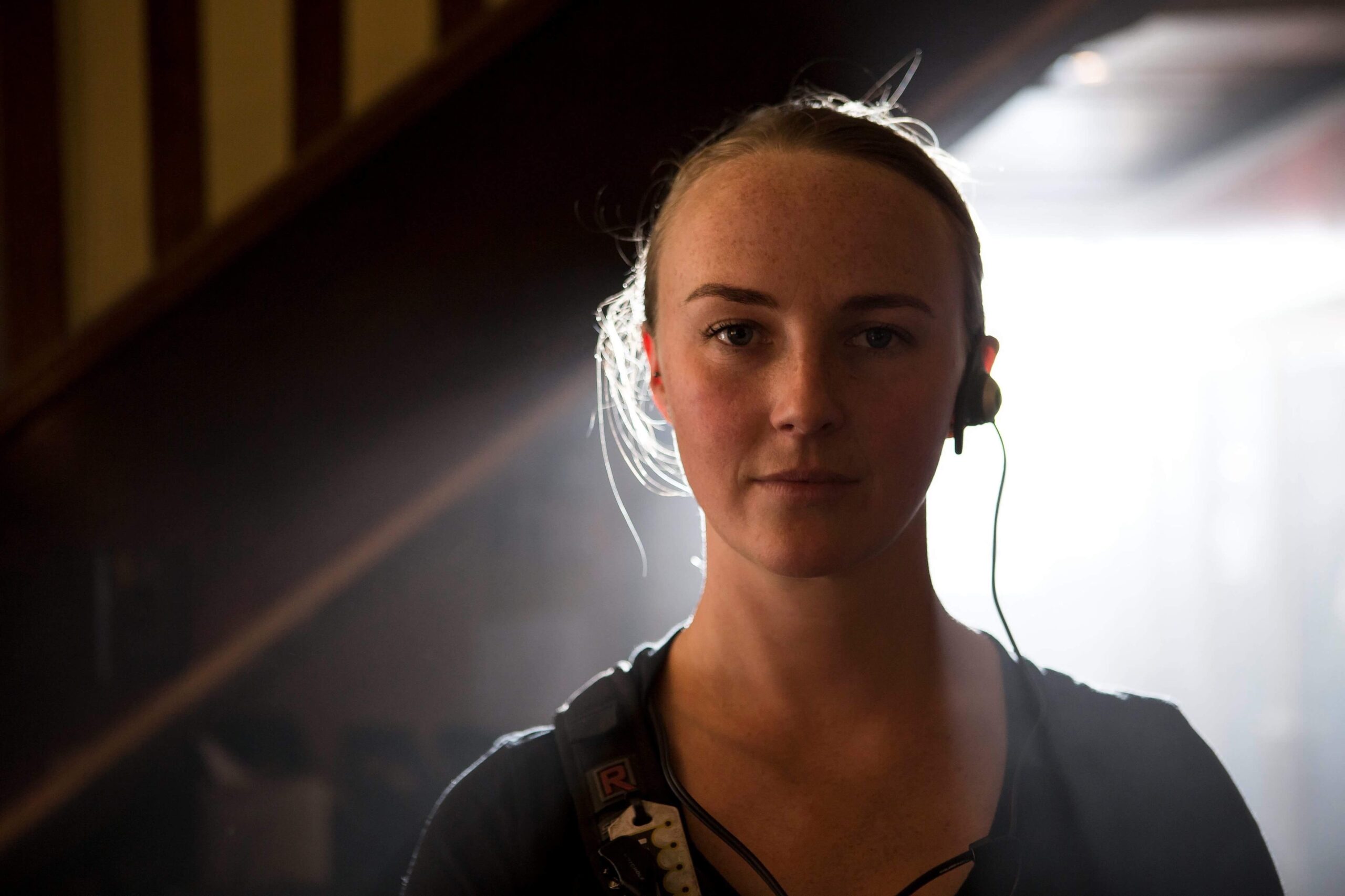 Kitty Allwood's (above) credits include:
La Brea (US Series) 2021 – A Camera 1st AC
BlueBack (feature film) 2021 – A Camera 1st AC
Jack Irish (ABC Season 3) 2021 – A Camera 1st AC
ClickBait (US mini Series) 2019/2020 – A Camera 1st AC
Stateless (ABC/Netflix mini series) 2019 – A Camera 1st AC
The Hunting (SBS mini series) 2019 – B Camera 1st AC