When Andrew Tran answered an advertisement for an IT job 13 years ago, he never imagined he'd be working behind the scenes on movie and TV productions. As IT Manager at Docklands Studios Melbourne, Andrew's in charge of setting up the communications technology – phones, computers, internet, etc. – that keep productions rolling.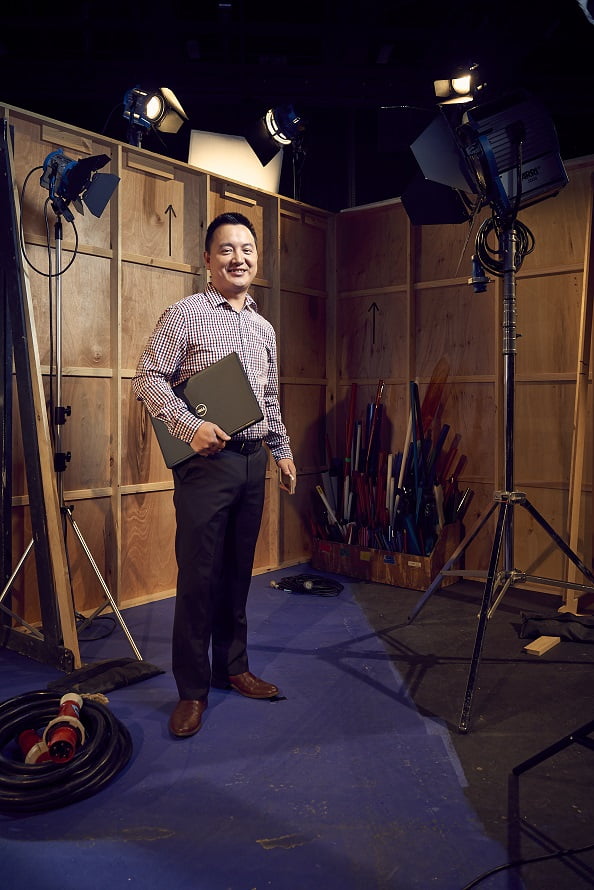 You are the only member of our operations team who's been here since the start – what do you remember of the early days?
Things were very different when the complex opened back in 2004. We were called Central City Studios and we didn't actually have an admin building. Our office was in a demountable shed and the car park was just gravel so when it rained there'd be puddles all over the place. We had to lay down wooden planks to cross the water so it was like being in the trenches! The first production we had here was Ghost Rider and that was huge – it took almost the entire lot.
Typically, what IT services do you provide to productions?
Usually it's making sure they have Wi-Fi for email and the internet, and for sending recorded footage to the post-production house which might be interstate or overseas. For example when The Leftovers (HBO Series 3) was based here in 2016 they sent a lot of their footage to the United States and it was edited there in real time. Some productions also need a Network Area Storage where there's a central storage for all the data, allowing each department to access it. For example an art department can share its drawings, so anyone can update them.
Productions rely on you to supply good bandwidth?
These days everything is sent via an internet link. Previously productions might store everything on hard disk drive or film whereas now it's digital. They send footage to secure sites like VIMEO so approved people can look at draft versions. If we need to increase bandwidth we can call on our providers to scale up to 1 GB on demand. We currently have a 400 MB link and a 50 MB scalable link on standby, so a production can call me and say 'I need a special 200 MB link because we'll be sending videos to America', and I can arrange that within a few days. That's good to have when we have multiple productions on the lot.
Most crew need an extensive phone system?
People still use landlines because they want to be professional and it helps things run smoothly. With a phone system you can overflow to different phones and transfer calls, and with a crew list it's easy for people to contact each other. The phone system is IP based so there's virtually no limit – a big production might need 100 to 150 handsets, but we can fit up to 300.
How early in a new production do you get involved?
Before the crew arrives I liaise with the production manager about the IT and communications requirements and I send floor plans of the work areas that they'll be occupying. They mark out where they require the phones, internet outlets and Wi-Fi access points and I provide a quote. The good thing about production crew from my point of view is they don't come all at once. For example we have one at the moment with just the line producer, the coordinator and the location manger so this week there are only three people for that production. I can easily manage installations for batches of ten to twenty people but if I need help I can call in contractors. Then as the crew arrives, I train them on the phone handsets and the internet, I set up their printers, and so on.
Do gremlins sometimes interfere with things?
There can always be problems along the way. For example on one production I got a call from a particular department saying their computers kept getting disconnected. So I went over and looked at the network of that particular building to check each connection one by one. Then I noticed one particular computer had no anti-virus software and I discovered it had a virus. So I cleaned the computer, installed anti-virus software and put it back on the network. That took at least an hour to figure out. That sort of thing can happen because productions crews are mainly freelancers who bring their own laptops, although nowadays most new computers come with anti-virus software so it's becoming less of a problem.
You also run all the IT systems for the studio admin?
I'm in charge of phones and computers in the admin building, and I help maintain the website. I also oversee technology like the CCTV cameras that monitor the external areas and feed data back to a server. And since we became state government owned in 2008 I have to make sure our I.T. systems comply with government standards.
Working behind the scenes, how much of the filmmaking process do you get to see?
Sometimes I get to see productions up close. For example with The Pacific mini-series (2010) we'd see soldiers practicing their marching in the car park. Another one I remember was Where The Wild Things Are (2009) – the costumes and the prosthetics for the monsters were amazing and the sets looked so real. From time to time I catch a glimpse of a big name actor – Kate Winslet (The Dressmaker, 2015) walking to get her costume fitted, or Helen Mirren (Winchester: The House That Ghosts Built, 2018) strolling to the canteen. One time I went to Guy Pearce's 'star van' to help him connect his laptop. It's great to see how filmmaking works and it makes me look at movies differently when a film's been shot here.
You've seen big changes around here since you started?
In the past the Docklands area had lots of old sheds and it was pretty deserted. Now there's so much activity and so many food outlets, and soon we'll have a new supermarket and a cinema complex nearby. I can hardly believe it's been 13 years since I started. There's no project- whether it's a film or TV series, a domestic or international project – that's the same. I feel really fortunate to be able to see filmmaking as part of my day.