Ahead of the release of director Cate Shortland's stylish new psychological thriller, here's a peek inside the Docklands Studios set of the Berlin apartment where much of the action takes place.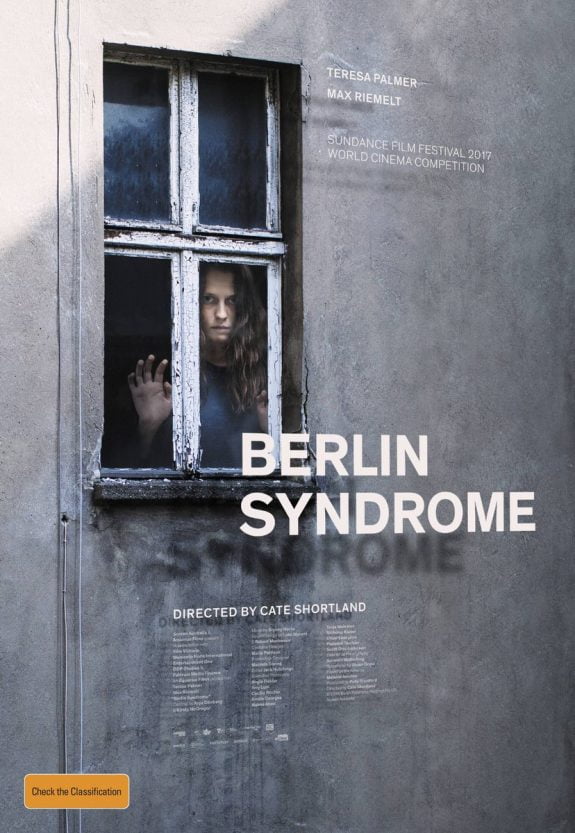 Berlin Syndrome movie poster (Source: Entertainment One Films ANZ)
A team led by production designer Melinda Doring created the apartment where Andi (Max Riemelt) keeps Clare (Teresa Palmer) captive over several months after they meet on the streets of Berlin.
[metaslider id=2570]
The designers matched these interiors, as well as a specially built facade, with exteriors of a real Berlin apartment block that Doring and Shortland identified on an earlier visit to the German city. Filming was split between Berlin and Melbourne during 2015.
Doring's team, which included Stephen Speth in Berlin and Janie Parker in Melbourne, captured the look and feel of a rundown East Berlin apartment block, right down to light fixtures brought in from Berlin and details on the small, double glazed windows that help keep Clare imprisoned.
Festival screenings at Sundance, Berlin and Glasgow indicate the film, produced by Polly Staniford, is set to be a hit with both audiences and critics.
The sets have already garnered one gong – the Docklands Studios Best Set Trophy for 2015!
Berlin Syndrome is scheduled for worldwide theatrical release in April.
(Photo credits: Ben King with kind permission from Aquarius Films)