One of Australia's most experienced stunt performers, Chris Anderson has lost count of screen projects he's worked on, but reckons it's well over 100. Anderson returned to Docklands Studios Melbourne recently for "about the thirtieth time" to join the big Chinese Australian co-production The Whistleblower. Bel Tromp asked Anderson about his best and worst days as a stunt actor.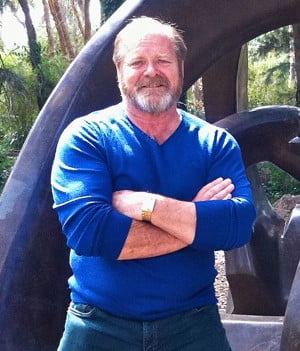 How did you get your break in the film industry?
I started in '75 as a 17 year old on Cash and Company doing fight scenes, followed by Eliza Fraser the next year but my first big movie was Mad Max filmed in '77. I landed a job working behind the scenes as a safety guy for some of the car crashes and was then asked to ride a motorbike off the Kirk Bridge (near Little River, Victoria). It was for a scene near the end of the film when there are four guys with motorbikes. Grant Page and I each rode a bike off the bridge about 30 feet down into a very narrow creek. It was probably one of the hardest stunts I've done and one of the least paid!
You went from stunt performer to stunt coordinator, is that a big step?
There's only around 8 qualified stunt coordinators in Victoria, compared to about 60 general stunt people working more or less full time. To do this job you have to coordinate people around you and bring them together to create the director's vision. You don't have to be the world's best stunt performer but if you don't know what it's like putting your life on the line it's hard to ask someone else to do it. I'm a bit old school, from a time when there were no wires and that type of thing, and I expect the young guys now to push themselves as hard as I did when I started. So if I'm asking for a hard knock I want a hard knock – obviously without anyone hurting themselves!
You've literally put your life on the line?
Yeah, I was working as a stunt coordinator on a film called Wings, about the America's Cup (note: filmed in 1991 and released as Wind in the US). I was about 10 miles out to sea having lunch when a boat in the shoot tacked over the top of the boat I was on and sort of punched me off. I had one leg either side when I hit the keel and I just broke in half, fractured my pelvis in eight places, crushed the artery in my leg and did quite a lot of internal damage. There was no blood flow to my leg for hours while they fixed my internal organs so my leg just died. It's called compartment syndrome and they couldn't save my leg so they just cut it off. Some people said 'that's the end of him', but this industry's fantastic and accepted me back and helped me get through a learning curve – there was nothing wrong with my head but my body just didn't work as well anymore.
You've been around long enough to be able do to some serious name dropping – so go for it!
Well I doubled for Paul Hogan in his shows for eight years. I did The Killer Elite with Robert De Niro, I worked with Gregory Peck on Moby Dick, and I worked with Clive Owen, Kate Winslet, Patrick Stewart, Michael Caine. Just recently I worked with Helen Mirren on Winchester at Docklands Studios. Among local actors, I worked with Kylie Minogue and Nadine Gardiner on the Henderson Kids, and also with Rebecca Gibney and Ben Mendelsohn. I did Proof with Hugo Weaving and Russell Crowe, who I also worked with on Silver Brumby and Romper Stomper. The funny thing about Romper Stomper was I didn't really want to do the first one when it was being made (1992) because I had young kids and I didn't want to create so much violence. Then when it came to the second one (TV series, 2018) I just thought 'Oh, I don't care about that now!'
You've recently been on The Whistleblower, the biggest project at Docklands Studios and in Victoria in 10 years. Has that been fun?
The project is so huge we took nine or ten days to shoot a car chase in Geelong. The thing I loved about the script was it just said AND A CAR CHASE HAPPENS and ACTION TO BE DETERMINED so it was a blank slate. I was in charge of action unit and I designed a few of the stunts. At Hazelwood Power Station in the La Trobe Valley we shot a really long foot chase. We had to create large mechanical devices to move from one spot to another so it was quite complex in the rigging and the implementation. It's a huge space nearly one kilometre long and fifty metres wide and to get from one spot to another we came up with an 80 foot crane. There were dozens of people on the stunt team.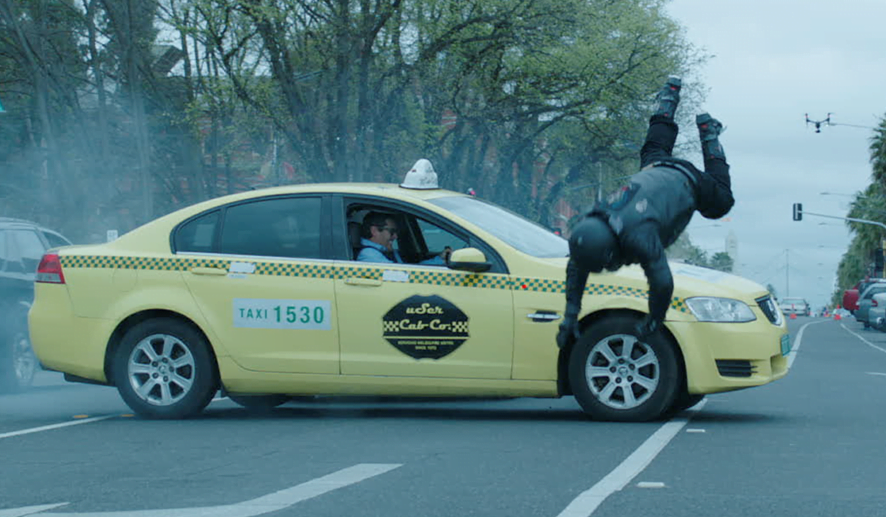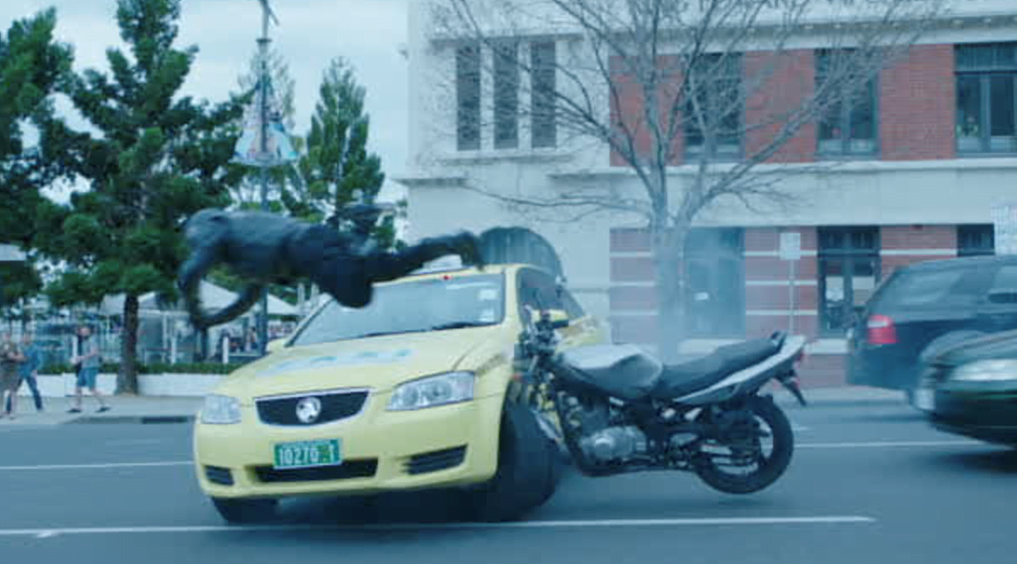 What's it like working on a Chinese co-production?
Well the director speaks no English whatsoever so everything we talked about went through a third party. The other trick was getting the actors to do what you want, but body language really is a common language. I wouldn't have got this job if I hadn't had overseas experience – I've worked in Thailand and Russia and in India on eight or nine Bollywood films.
One of your other projects this year was Ride Like a Girl (based at Docklands Studios) about Melbourne Cup winning jockey Michelle Payne, directed by Rachel Griffiths?
I came in to do 10 days work and ended up working for 11 weeks! It wasn't as much stunt coordination as the action with the horses, the crossover between jockeys and thoroughbreds and film horses and working on a film set, so I became the race liaison officer. (Lead actor) Teresa Palmer had ridden a horse before but I put her with the right people so she would look good riding a horse at a canter.
You've been around a while – where is the industry at in Victoria?
Are you serious? It's so busy. All the stunt coordinators are working on multiple jobs. There's True History of the Kelly Gang, Bloom, Glitch, Relic – about eight or nine projects at the same time. I think producers like what's going on here – we've given them a good taste of what we've got to offer and they want more.
If you could tell your teenage self how your career would pan out, what would you say?
I'd say go for it! I wouldn't change a thing. I believe I'm one of the most blessed people in the world because when I was 17 I fell in love with this industry and doing stunts. I was saying to the guys the other day that I still love it. I might tell my teenage self not to work on this or that film but in the end I'd just say go for it!
The Whistleblower is a thriller following the story of a Chinese expat who uncovers a conspiracy at the company he works for. Led by acclaimed producers Bill Kong (Crouching Tiger, Hidden Dragon, House of Flying Daggers) and Greg Basser (Concussion, Goosebumps and Chinese productions Cold Wall II, Rise of the Legend) and female director Xue Xiaolu, the film stars Chinese actor Jiayin Lei (Guns and Roses, Brotherhood of Blades II) in the lead role. Shooting from June until October, the production has spent more than $40 million in Victoria. In addition to using Docklands Studios largest sound stage, the production filmed in several locations across the state including Dandenong, Footscray, Werribee, Geelong and the Latrobe Valley. The project received financing through major Chinese-based companies Perfect Village, Edko Films and Beijing Carving Films with investment from Film Victoria and assistance through Screen Australia. Roadshow Films will distribute the film in Australia.