A production coordinator is like a mother hen – getting everybody in the right place at the right time. One of the best in the business is Mim Davis, who's worked on a raft of productions at Docklands Studios Melbourne since she moved from Sydney to Melbourne four years ago. She spoke to our publicist Bel Tromp about the ups and downs of the job.
BT: What exactly is the role of Production Coordinator?
MD: It's working alongside the production manager and coordinating all the cast. So as soon as a someone gets cast, touching base with their agent and making sure that they know what's required of them, sending scripts, schedules for rehearsals and such – you coordinate everything about them and their movements. Predominantly you deal with cast but you also help set up the office, get a good team on board – a good production secretary and runners are imperative – and just make sure whenever there's new crew members that they're all happy and have everything they need for their role. Also it's being the 'go to' person for scheduling meetings with directors, cast and crew. Then it's organising makeup tests, costume fittings, rehearsals and the general running of the office, and when we start shooting it's doing the call sheets, liaising with all departments and getting all the information that's required for each day in accordance with the schedule.
BT: When you're juggling that many things, is there a lot of scope for things to go wrong?
MD: Yes, but there's protocols and there's processes and you learn along the way. I think when I first started out, you know, you're so worried about impressing everybody and making sure that you don't make mistakes that you often make more mistakes! Then you begin to feel more relaxed and comfortable from knowing what needs to be done. To make great film and TV you need to be on the ball, but it's supposed to be an enjoyable, fun experience because we're here to entertain the masses and trying to make sure that we have a good time while we do it. You do come across a lot of different personalities with crew and cast but the biggest thing is to be calm (laughs).
BT: How did you get your start in the screen industry?
MD: I did hospitality, which is a great jumping off point because it's dealing with people and different personalities. I managed restaurants in Perth, where I grew up, and then moved to Sydney in my mid-twenties and managed restaurants there. I started getting bored with hospitality, so I thought about what I enjoy more than anything – going the cinema and watching films. And because hospitality is about organising I thought I could be good at production. So I started enrolling in short film courses and I volunteered at AFTRS – the original one in Epping in Sydney – where I would production manage short films, shooting on 16mm & 35mm. Then I started working with award winning graduates on short films and music videos. All of this was unpaid for years. From here, I got a job at the Film Finance Corporation, our Federal funding body, which later became Screen Australia. It was a great experience but after four years I felt the need to move on so I started as a freelance on Around the Block, a feature film with (actor) Christina Ricci. That was my first time on set as production manager, so that was pretty intense. Then I went to Melbourne to do a job, a feature film called Patrick. So, I just sort of figured it all out along the way. I was given great opportunities from producers that took a chance and believed in me. I am indebted to these living legends (you know who you are…)
BT: Working on Patrick (2013) was your first time at Docklands Studios?
MD: Yes it was fantastic. It was a remake of an iconic 1978-horror film – lots of fun, small cast. So that's where I met Rod (Rod Allan, Docklands CEO) and all the gang and since then I've done seven jobs at Docklands – Patrick, Predestination, INXS: Never Tear Us Apart, Childhood's End (pre-production only), The Moon and the Sun, The Big Music Quiz, and last year I finished Upgrade with (director) Leigh Whannell.
BT: What was it like working on Upgrade?
MD: It was incredible. Working on feature films seems to be more of a personal experience – there's one script, there was a small cast, lots of 'stunties'. We closed down a freeway for three nights ─ we were smashing cars, building futuristic machines, lots of fantastic prosthetics and the story was epic. We had a couple of great actors from America plus the incredible local talent and a great team. There were a few night shoots as well so it got pretty intense, but everyone was just focused on making it all work.
BT: Tell me about the night shoots.
MD: We would start at 7pm and wrap at around 6am in the morning, and then the next night it would be ­­another 7pm start. We did that for a week near the start and for a couple of weeks towards the end of the shoot. But it was fantastic – I wouldn't change a thing about the experience because that's how you learn and grow in our industry.
BT: Leigh Whannell has quite a bit of experience in Hollywood – does that show through?
MD: Yes and he loved the fact that he was back filming in his hometown. He had worked previously with a lot of crew – like his D.O.P. – and he wrote the film so he was very close to the story which helped every department with his vision. He really looked after the crew. He would organise surprises – once it was the Nutella food truck that arrived at three o'clock in the morning with crazy things like Nutella burgers. A super fun, delicious way of Leigh saying thank you to all the crew for all our hard work. He's a very generous director – really takes note and appreciates every single crew member helping make his vision come to life.
BT: Do you have a favourite project you've worked on?
MD: There's a couple – probably one of my favourites was Molly, the TV Series with (actor) Samuel Johnson. That was with Kev Carlin directing and John Molloy producing and it was just a fun-filled vibe. I think maybe because it was around my era – it was all Countdown and vinyl playing constantly from that time – and it was a wonderful story about an Australian icon. Upgrade is another one, again because it was an exciting action packed shoot with great cast and crew. They're probably my top two but, you know, there are good and tough things about all of them.
BT: What are the challenges of working as a freelancer?
MD: You don't know when your next job's going to be, so you do need to learn time and finance management. It's great when you are able to get gigs back to back but it means you don't really have a proper holiday. But you just need to plan. It is important to have breaks because you have a job for three months and it's intense, its long hours and you're in an awesome crazy bubble. Since working on Upgrade in 2017, I worked on couple of ABC TV shows then Channel Ten's The Wrong Girl which shot around the Docklands precinct and used the studios for truck park up. I recently wrapped on another feature film which also used Docklands Studios for truck park up plus we filmed in a one of the stages for a few days.
BT: What do you like about working at Docklands Studios?
MD: The best thing about Docklands is the people who work there – like Lisa, Brooksy, Rosey, Laz, Andrew and Anton (who has since moved on) – they're awesome. Lisa on the gate is fantastic and I'm not sure how she does it but she remembers everyone's name as they come through. Broosky is a top bloke who is always happy to help – even from the golf course on a Sunday! When it's busy at the studios and there are a few productions at the same time, the Docklands team handles it very well and always get things done in good time and with good humour. It's a great facility.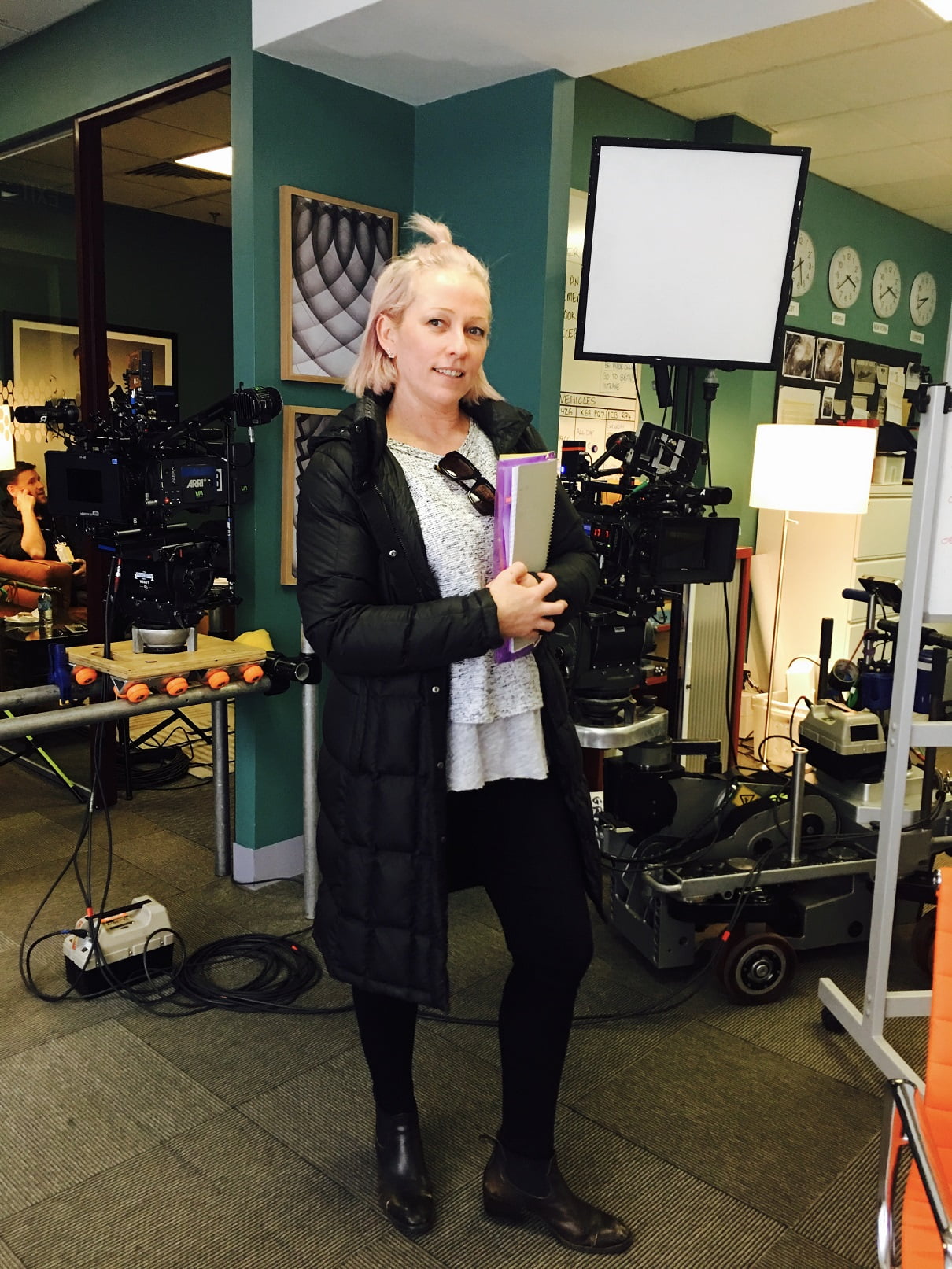 Mim Davis (supplied)